The Journey from Stats to Stats-Free QC
6. Three Pillars of Laboratory Quality March 6, 2014
Take the Survey.  See the Problem.
WEBINAR - Thursday March 6, 2:30 PM EST
Three Pillars of Laboratory Quality
CLSI EP23 requires that "The laboratory should manage risk by implementing QCPs that serve to ensure test result quality is appropriate for clinical use of the information." and that "At the least, the ability of the QC procedures to detect medically allowable error should be evaluated."

You need 3 solid basics to guarantee clinically-acceptable patient care: 
Analytical Processes

verified to meet defined clinical standards  

Q.C. processes

verified to detect clinically-significant change

Staff

certified competent to take the right action when errors occur
In the recent QC Chart Challenge, for the first time, I asked not only "What do you think"  but "What would you do?"  I wish I had asked "Why?"  

The inconsistencies in what people would think and do when faced with the same clinical scenario sheds new light on the importance of staff competence.
 
Open Mike Discussions
Panelists include:  David Plaut,  Anna Murphy, and ... you?
I was looking for an image of a three-legged stool to 'borrow' to illustrate the 3 pillars of laboratory quality, and I happened across this in HuffPost.  Dr. Waldmans point about the affect of decisions made by managers and regulators applies directly to the laboratory.   Let's talk about this on Thursday.
"One For All"
When we treat similar people by different rules, like paying a woman differently from a man for doing the exact same work, that is called a double standard and we all resent it.
What about a triple standard? Shouldn't we resent that even more?
Healthcare providers are judged by a standard of patient outcomes. Managers are judged by a completely different standard - costs. And regulators...they are not judged at all (no standard). But, the outcomes that patients experience result from decisions made by all three groups. Thus, doctors, managers, and regulators are judged by three different sets of rules: a triple standard.
You expect your doctor to practice evidence-based decision-making. Why not the managers and regulators? They affect you at least as much as the doctors! Why do they get away with this? Answer: the triple standard.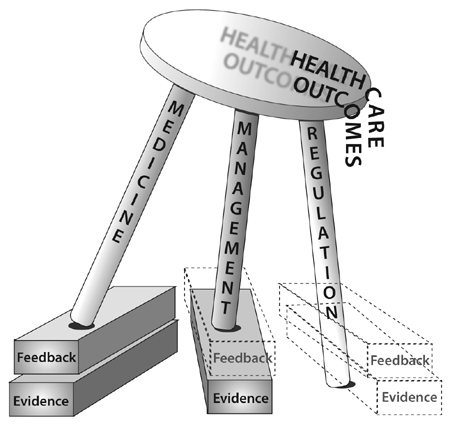 There are many different mechanisms for feedback to the care providers, such as utilization review; professional standards; and, when the patient is harmed, the medical malpractice system. What feedback occurs TO managers or regulators when a patient is injured by their decisions? Answer: none. Only the providers get feedback. Only the providers are held accountable. Triple standard again. Remember: only those who get feedback learn.
Do you want to begin curing healthcare? Start by demanding a single standard - "One for All" -

one

set of rules for

all

people who determine our health care.
We have changed the webinar schedule  to every TWO weeks. 
Next webinar March 20th  2:30 -3:30 EST
Future Topics include
When QC fails, call service (True confessions of a service rep)

EP 23  - What it says; What that means; How to meet requirements

Quality OptimiZer  - Stats Free Quality Management

Educators Q.C. Toolbox (an open collection of resources recommended and rated by members)
In the albumin example from the QC Chart Challenge below
No information was provided

on clinical standards - yet people drew conclusions

Method performance was identical.  Only the QC Chart values differed - and individual interpretation.

In the OptimiZed chart, the mean shifted 4.8 SD.  Every result after the change was a 1-3s reject.  Yet Only 60% of respondents said they would stop in the first run.
Will this performance meet EP 23 requirements?
Thanks for caring for quality!         
Please forward this to friends and colleagues.
Zoe Brooks     March 4, 2014
Subscribe to this newsletter
Please note.  I am not being critical of any individual person, institution or organization.  I want to express my most sincere respect, admiration and appreciation to  Dr. Westgard and so many others.  This process does not contradict  today's  published  recommended, principles and processes; it just implements them differently. 
Last modified: Wednesday, 16 April 2014, 10:41 AM